Welcome to the 2014 All Star Home Page!
It's that time of year again! Here at Bonita Valley Girls ASA fast pitch softball, we have selected eight All Star teams to represent BVGASA throughout the summer. We will follow all of the teams here with schedules, pictures, and team performance as the information becomes available.
If you have pictures or game results for any of our teams and would like to share, send your material to the Web Site Coordinator.
---
Sunday, August 3rd, 2014 7:13am Super Job at the Nationals!
For Bonita Valley, the 2014 All Star season has come to an end. The 10's and 12's put up a great battle and left their mark in Roseville, CA these past eight days. The 10U team under Marcus Alfaro finished 9th of 42 teams. The 12U's had a field of 44 teams. Under Scott Hill they finished a very respectful 33rd. Up in Medford Oregon the 14U team lead by Jerry Zapata also fought a tough fight against some very skilled competition. They picked up a real nice 17th out of the 29 teams playing there. Way to go ladies! Really. We are very proud of you and your accomplishments this summer and this weekend! Very nice job!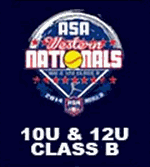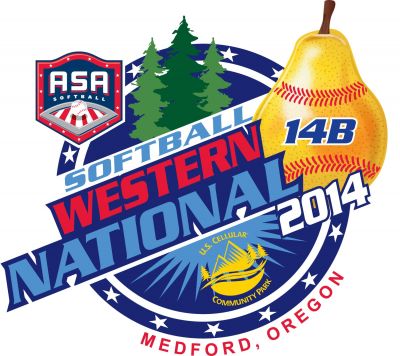 You can see the results of all ASA 2014 National Championship tournaments on the ASA Team USA website.
Monday, July 7th, 2014 2:48pm BV Shows the Way at States!
All four BV Gold All Star teams made the trip to Lancaster, CA for the ASA 2014 State Championship Tournament and did fantastic! The 8's finished 7th (of 24), the 10's captured a huge 2nd (of 32), the 12's finished strong with a 5th (of 32), and the 14's got 9th (of 32)! All qualified for the ASA National Championships! The 10's and 12's are head to Roseville, CA and the 14's go up to Medford, OR. These tournaments are 28 July through 3 August. Each team will need all the support available so please watch for the Fund Raisers and get out there to support them! Go BV!!!
Monday, June 23rd, 2014 12:04pm Strong Showing at Districts!
Wow! What a show! BV does it big at the Southern San Diego District Championship this past weekend. It's on to States for all the Gold teams as we continue up the road towards the Nationals. The 8UGold team finished 2nd (of 8), the 10UGold finished 2nd (of 10), the 12UGold cleaned up with a 1st (of 9), and the 14UGold locked it down with a 1st (of 7) teams! Way to go BV!
Tuesday, June 10th, 2014 9:00pm Pictures Are Coming In!
Starting to get a few pictures to post! When I get some for a team I set up the pic viewer and list the link with the team menu on your right or left. As you can see we have a couple of teams with picture links. Hope to get more!
Monday, June 9th, 2014 3:26pm Orange County Madness
Both of the last two weekends six of our 8 All Star teams have made the run up I-5 to play some ball! A number of 1st and 2nd places were secured and the hardware came back to the South Bay! On the home front the 8Silver and 10Bronze teams have been making noise over at Scripps and Santee! Trophies are coming in and more are on the Way!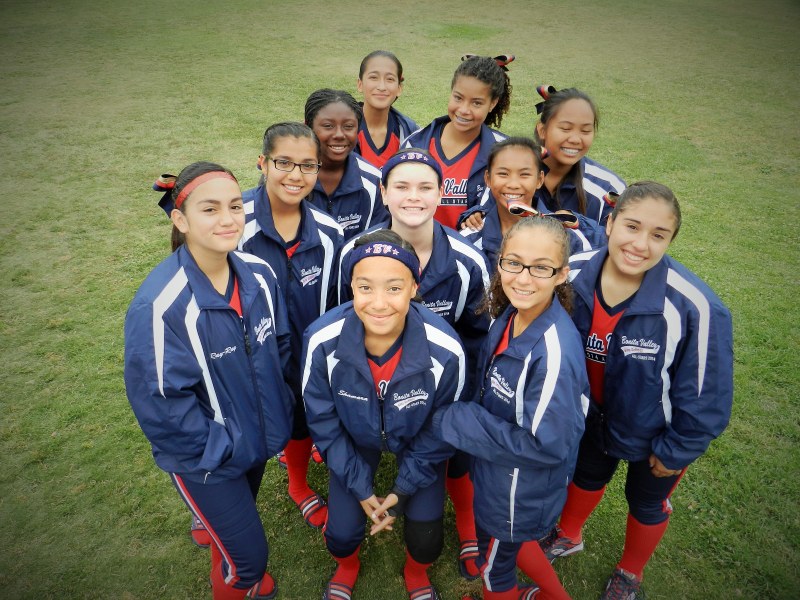 Friday, May 30th, 2014 11:08am Congrats to the PQ Champions!
We are off to a great start this All Star season! All eight teams were in San Diego for the PQ Memorial Day Classic tournament. A nice thing about this tourney is that there are 9 fields at Canyonside Park so all of our teams were together. If you didn't make it, it looked like tent city out there for BV! Canopies and coolers and chairs all over the place and all grouped together! What a sight!
Three of our teams went to the finals in their age divisions and won! A big shout out to the 14U, 10U Gold and 10U Silver teams for bringing home the hardware! Wow. Real nice job ladies.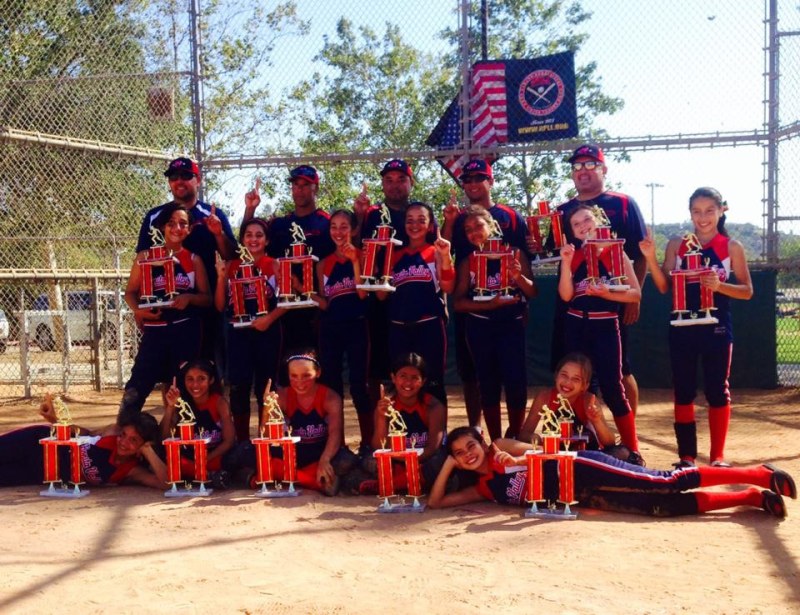 Thursday, May 22nd, 2014 12:42pm All Star Season Cranks it Up!
Our All Star teams kick off their season this weekend at Rancho Penasquitos in the Memorial Day Tournament. All eight teams will be playing pool games through Saturday and start their bracket play on Sunday. The touney championship games are on Monday.
It is just a 30 minute drive up I-15 so why not come on out and see a game. Click your way over to the All Star schedule and then click on the tounament to get to the tourney schedule. Make it a day and come out to support our teams!
Saturday, May 17th, 2014 6:19pm PQ Memorial Classic Schedule
The schedule for the PQ Memorial Day Classic is up on their web site. Time to find out when you play! This is a 4 game minimum tourney over the holiday weekend with the Championship games scheduled for Monday afternoon. Go get'em BV!
Thursday, May 16th, 2014 11:06am All Star Friendlies at CVC
Our 10U and 12U All Star teams are hosting a number of "Practice" games on Saturday, 17 May at the Chula Vista Community Park (CVC) fields from 9:00am - 3:00pm. Often called "Friendlies," these games will be against the Escondido All Star teams as they get out of the fire & smoke and get to doing what we all love and enjoy: Playing quality softball!
Pack up the car and come on out to CVC park for some great competition. Remember to bring your canopy, chairs, sunblock and a full cooler! We will see you out there!
Tuesday, April 29th, 2014 2:13pm All Star Tryouts Attire
The All Star Tryouts for BV will be held this Thursday, 1 May, at Discovery Park. The event starts at 4:30 but come early so you can warm up! Bring plenty of water because of the heat as we are expecting temps in the 90's.
All players trying out should be dressed appropriately. Wear your current team jersey and NO PREVIOUS ALL STAR ATTIRE. Don't forget to bring all your gear!
Sunday, April 27th, 2014 2:38pm All Star Managers Announced
Congratulations to the 2014 Bonita Valley All Star Managers! Today we are announcing eight of our best to manage our All Star teams this summer. These folks where selected after a very competetive selection process that took almost 3 weeks! When you see them on the fields give them your congratulations and wish them well!
14U Gold: Jerry Zapata
12U Gold: Scott Hill
12U Silver: Ryan Ilagan
10U Gold: Marcus Alfaro
10U Silver: Joaquin Farfan
10U Bronze: Karen Loper
8U Gold: Richard Estrada
8U Silver: Anthony Acosta
Congratulations folks!
Monday, April 7th, 2014 3:11pm All Star Managers Needed
The All Star season kicks off with the selection of the All Star Managers in late April. We are now accepting Manager applications for these positions. We will need 7 - 9 Managers to cover all of the Gold, Silver and possibly Bronze teams this year. Send your resume/application by email to Scott Hill by 20 April for consideration.
For more information here is the All Star Manager Announcement.
Monday, April 7th, 2014 8:05am All Star Tryouts Announced
Bonita Valley Girls ASA All Star tryouts for the 2014 summer season will be held on May 1, 2014 at 4:30pm. They will be conducted at Discovery Fields. Registration begins at 4:30pm followed by some warming up and then getting right to it! 14U's will be on Field #1, 12U's on Field #2, and 10U's will be on Field #3.
To register your player you will need to complete and submit an All Star Agreement. You can get the form by clicking on the All Star Tryout flier below.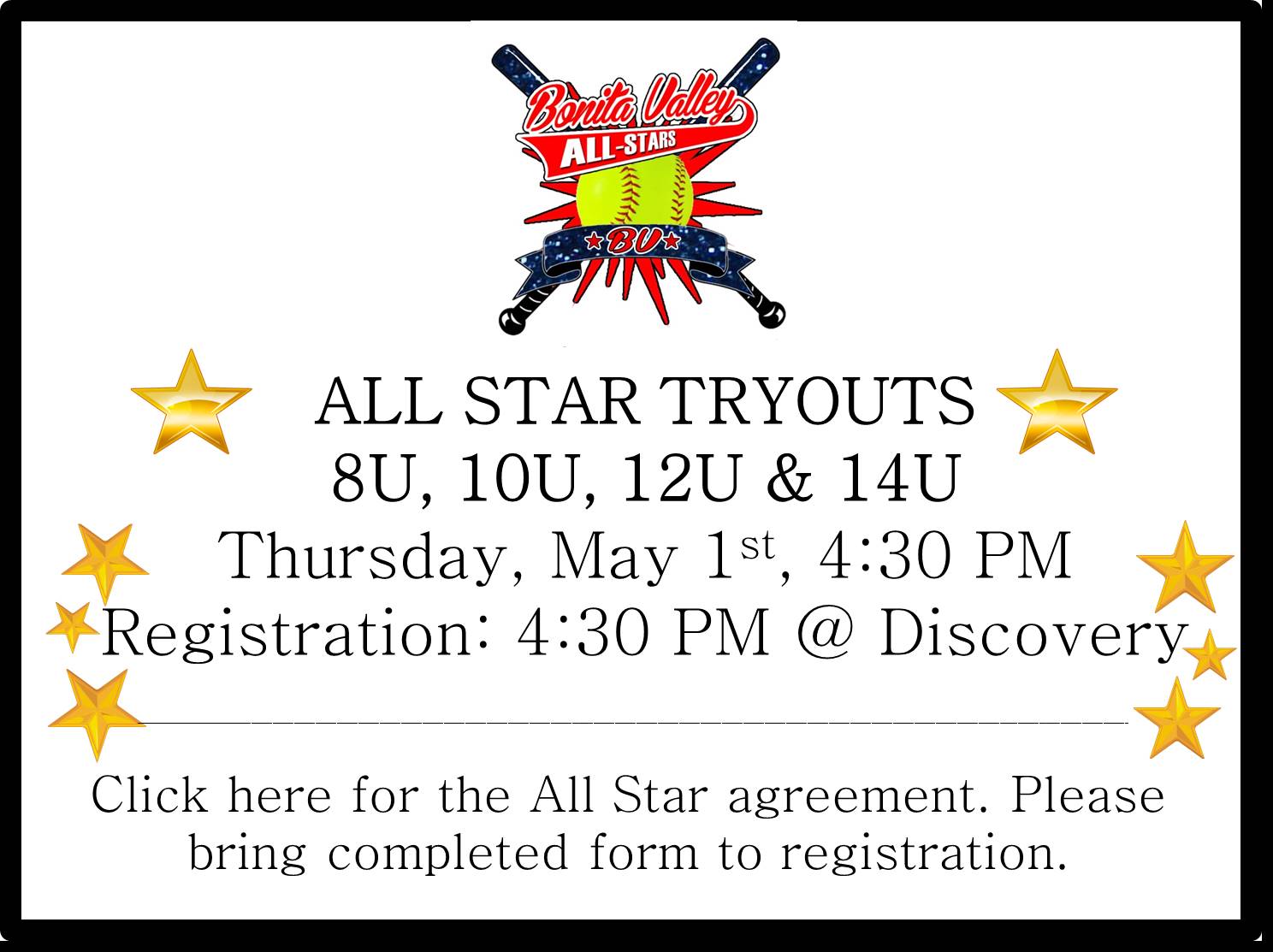 ---