Thursday, August 17th, 2017 8:00am: Latest News
2017 Bonita Valley All Stars National Champions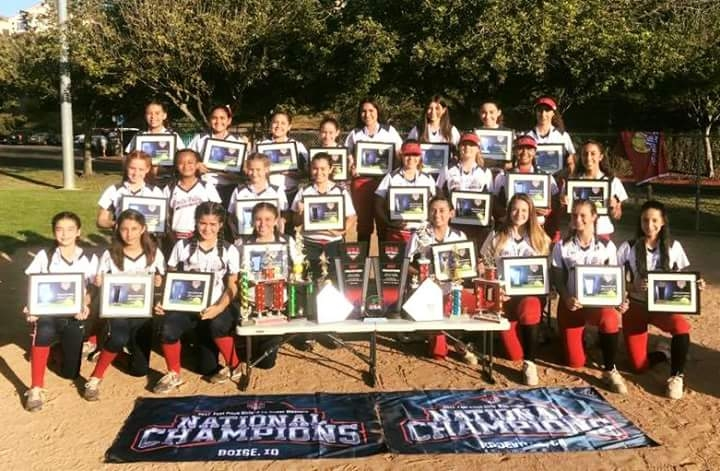 Congratulations to the National Champions

Congratulations to both Bonita Valley 10U and 14U Gold All Stars for winning the National Championship. This is the first time in Bonita Valley history that two All Star teams from different age group divisions have brought home a National Championship in the same year.
The 10U All Star team was able to go undefeated in the bracket games by winning six games to win the National Championship. The 14U team went undefeated all week winning both pool games and staying in the winners bracket undefeated winning six games to win the National Championship. Both teams worked hard this season to reach their goals practicing every day during the week and playing in tournaments during the weekends. In the middle of the all star season both teams became sisters to each other and when the 10U little sisters played their best in Boise, Idaho to win the National Championship the week before, the 14U big sisters had to step up their game the following week in Roseville, CA to follow their lead.
Great job to all the players, coaches, parents, and supporters of both teams. We look forward to seeing what these 10U division girls will do in the future and increasing the competiveness and excellence here at Bonita Valley. We wish our 14U girls the best of luck on their way to continued success in high school and thank both teams for representing Bonita Valley. GoBV!
---
New 2018 BVGASA Board Members

Bonita Valley Girls Softball held it's annual election for the incoming Board of Directors on May 6th. Here are the results. These folks will take over with the new fiscal year starting September 1, 2017.
We also want to thank all for running and to those that did not win, we will be keep you in mind when or if openings happen. Thanks!
Position
Elected
Position
Elected
President
Sean Carey
1st Vice President
Jeff Johnson
2nd Vice President
Deanna Carey
Secretary
Kristie Hill
Treasurer
Bill Mendoza
Big League Player Agent
Anthony Acosta
Minor League Player Agent
Jandi Diego
Big League Coordinator
Ray Collier
Mini-Minor Coordinator
Joe Hiner
Rookie Coordinator
Netzer Ruperto
T-Ball Coordinator
Michael Theriot
All Star Coordinator
Priscilla Greeno
Field Coordinators
Alex Lopez
Alex Sangalang
Kurt Baca
Claudio Corrales
Equipment Coordinator
Kelly Greeno
Sponsor Coordinator
Jessica Acosta
Snack Bar Coordinators
Delia Carvajal-Ruiz
Alma Avila
Michelle Luna
Lorena Vargas
Fundraising Coordinator
Jamie Collier
Uniforms/Awards Coordinator
Sandra Lozano
Rommyna Keeran
Umpire Coordinator
Robert Baca
Web Site Coordinator
Ray Lozano
Photo/Yearbook Coordinators
David Magana
Nette Brooks
Volunteer Coordinator
Jacqueline Magdeleno
Ways & Means
Terry Flores
Felipe Hernandez
Team Mom Coordinator
Lisa Navarro
Safety Coordinator
Robert Superales
---
Congratulations for Tom Kohl Award Recepient

Congratulations to Coach Nicky Meyer-Sandez, this year's Tom Kohl Award recepient. Coach Nicky has dedicated a lot of her time to Bonita Valley softball by going above and beyond what is expected, and touching the lives of countless of people in our community.

Thanks Coach Nicky!
---
2017 Upper Division Champions

Congratualations to the 2017 Upper Division Champions.

Lights Out 14U Majors Division Champions.
Punishers 12U Minors Division Champions.
Blue Thunder 10U Mini Minors Division Champions.

These were some competitive championship games. In the 14U divisoin it was a close game with the tough Blue Jays team giving them a hard fight. In the 12U division Call of Duty was able to win the first game, so a second game was played since Punishers came out of the winner's bracket. Also in the 10U division Alpha won the first game, so that a second game needed to be played to determine the champioin.

Congratulations to all the teams for great seasons and for all the hard work that was put in to make it successful!
---
Check out the 2017 All Star Page

Make sure to visit the 2017 All Star page to keep up on the latest news.
---
Congratulations to the 2017 Bonita Valley All Star Managers!

The 2017 All Star Managers have been selected. These folks where selected after a very competitive selection process to manage our All Star teams this summer! When you see them on the fields give them your congratulations and wish them well!
14U Gold
: Bill Mendoza
14U Silver
: David Bump
12U Gold
: Nicky Meyer-Sandez
12U Silver
: Richard Estrada
10U Gold
: Anthony Acosta
10U Silver
: Jeff Johnson
10U Bronze
: Joe Hiner
8U Gold
: Jandi Diego
8U Silver
: Ed Perez
Congratulations!
---
2017 All Star Schedule

The 2017 All Star schedule has been posted.
---
---
Dates to Remember:
May 6, 2017: Closing Ceremony